'Bolsa de Agua', barefoot swans, and All-You-Can-Drink
by Mike Sheahan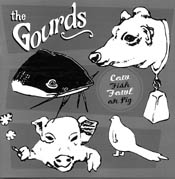 As I put the finishing touches on my fantasy football draft (I know, I know, it's dumb)
and watch all my fantasy baseball hopes disappear into thin air, I am somehow reminded that I have a real reason to be sitting in front of this computer. Until the day I get paid loads of cash to play fantasy sports, I give you The Goods.
The folks at Storyville have done a great job lately of tapping into the Texas touring-band pipeline, and this Wednesday, Sept. 11th is no exception. If you only go out once this week, make it Wednesday to see the Gourds.
They are called an altcountry band, and even though I hate that term it's probably most fitting. Mandolins, banjos and dobro pepper a sound that is mostly guitar
driven and thoroughly rooted in the Texas tradition. Somehow the Gourds manage a sound that is both appealing to me and to Phish fans.
Ask any five Gourds fans what their favorite album is, and you're likely to get five different yet equally adamant answers.
My favorite is "Bolsa de Agua." It's dense, loud, funny and erratic. Others might like the quieter, less raucous "Stadium Blitzer." But that is what makes the band so good: there's a little something there for everyone.
Tickets are $10 in advance and $15 at the door. Expect this one to sell out.
This Saturday the 7th, Australian folk-rock band Fruit will be performing a benefit show for KDUR and The Durango Farmers' Market, two very worthy causes.
Fruit plays mostly mid-tempo dance tunes. It's the kind of music that makes people do what I call the Barefoot Swan Dance - shoes off, one knee (at a time) in the air, arms in some wing-like pose. Kinda like Madonna's "Vogue" if she smoked a lot of grass. You get my drift.
In 2001, Fruit was named best up-and-coming live band in Australia and I've heard their live show is super. The show happens at the Durango Arts Center and is a nonsmoking event. Bear in mind that this is a benefit for both KDUR community radio and the Farmers' Market as I tell you tickets are $15 and can be bought at KDUR, DAC, the Farmers Market or Maria's Bookshop.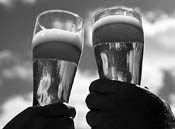 Do you like to drink the beer? Of course you do. Would you like to pay only $20 and drink as much beer as you want? Of course you would. You're in luck, because Saturday is the San Juan Brewfest at Durango Mountain Resort. I've never been to it but my friend Sasha Middleton, WHO NEVER LIES and knows how to have fun, says "it's a kickass time that I look forward to every year. It's the kind of place you see friends you haven't seen for a long time, and maybe some people you don't want to see. But it's a party, so who cares?"
The brewfest works like this - you pay your 20 bucks and then get to sample beers from practically every Four Corners microbrewery. One year there was a polka band; another year croquet could be played. Of course, after a day of tasting beer,
the last thing you want to do is drive home. Condos can be rented (with free admission to the fest). But Sasha says the real deal is at the Silverpick where you can sleep six for 100 bucks. The Fest runs from 1 to 5 p.m. in the Purgatory
Festival tent. Call 385-2149 for more information.
Allow me to digress here if you will. I love television. I know we all do, but for me I think it goes deeper. I can easily log six or seven hours a day and have been known to stay up 'til 4 a.m. watching Sportscenter reruns. I work where I do because there are seven TVs, all with their own remote. Did I mention I love television? Well, I do, which is why I'm so despondent over the cable service we
get in Durango. Anyone who watches the 5 p.m. episode of the Simpsons knows exactly what I mean. Around 30 percent of the time there is video but no audio, just a bunch of static! Also, Fox always cuts to commercial before the scene is over, causing us to miss some of Homer's best one-liners! I tried to settle KASA Fox's hash earlier today, but the same person who does the on-air editing must also run the phone system as I kept getting cut off or re-routed to the initial recording. So, I
fired off a nasty e-mail instead. Take that, Fox network!!!!
Cut to 2000: American League Championship Series. The NY Yankees are playing the Seattle Mariners, I'm enjoying the game on channel 15, our Denver-based NBC affiliate. At 7 p.m. (fifth inning, score tied) the game cuts off for an infomercial about the train. Imagine my dismay!! No number of angry phone calls could fix it either. Or how about the fact that our scrolling TV guide doesn't always jibe with what's actually on?
The Cartoon Network is two hours off, for example. How am I supposed to catch the "Brak Show," starring Brak, in these conditions? Or how come there's a half hour infomercial about shoe inserts sandwiched between Letterman and Killborn? People, join me in my crusade to improve our cable service by e-mailing the cable
company or your congressman! Unless of course your internet server is down, like mine is most of the time. Then just stew in your juices until someone gives you a newspaper column.
Thank you and good night.
NEXT WEEK: Who's got the best happy hour?