Ask the Diver
Diver-Steve Gould of Cuckoos
Years in the industry-15
Claim to fame-Encore performance of THE DIVER

Dear Diver,
I am a former Durango resident now US ARMY corporal stationed at the Diego Garcia Air Base south of the Persian Gulf. Currently I make $680 a month as a foot soldier here in the Middle East. I need to know, who the hell do these major league baseball players (and other pro athletes for that matter) think they are, bitching over millions of dollars to play a stupid game, when I'm out here defending freedom for less than $1,000 a month? I think we should round up all the players in the major and professional leagues and draft them. However, you may have a better answer. Basically, all of us in the military are pissed at the selfishness and arrogance of professional athletes. What should be done?
Yours in freedom and democracy,
Cpl. Jack Salb,
Via email.
Whew Corporal,
That's a long-winded question. Well Jack, unlike yourself, professional athletes have an excruciatingly dangerous job. Getting up every morning for a two-hour massage and hitting the hot tub for another half hour can wear down the body and soul. Never mind the stressful travel on the custom chartered and catered jets. It's only a game, but somebody has to do it. Somebody has to take one for the team.
Good luck and thanks,
Diver.
Dear Diver,
My boss recently caught me reading The Telegraph while I was on the clock. He threatened to let me go if it happens again, but your paper gets me through long afternoons out here at the button factory. Should I just ignore my boss, and risk my job?
Jon McDougal,
Hermosa.
Jon,
My advice to you is to keep reading the paper because that is more enriching than being surrounded by seven TVs for eight hours a day, which is what I indulge in daily.
Sincerely,
The Diver

Dear Diver,
Why doesn't the majority of this town support live music? Do people here like music other than Phish and the Panic band, or are they just shallow and narrow minded?
Kevin,
Durango
Kevin,
There is no need to go out and spend your hard-earned cash when you can sit on your duff with the wide variety of MTV, VHI and the Country Music Channel.
Thanks and keep watching,
Diver.
Dear Diver,
I think you are a prime candidate for President of Fort Lewis College. Ever consider this position?
Jordan Reed,
Durango.
Mr. Reed,
I'm not qualified for the job because I don't have to wake up every morning and look at my ID to remember my name.
Thanks,
Diver.
Dear Diver,
My boyfriend has been avoiding me and acting "suspiciously" whenever I question where he has been. Is this a sign that he is cheating? Please help.
Broken hearted in Hermosa.
Ms. Broken Hearted,
My advice to you is to turn the tables on him. See if he becomes suspicious when you come home night after night smelling like broasted chicken and cleaning materials.
See you soon!
Diver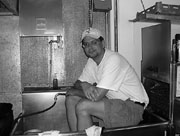 Got a dirty little secret? Need to clean your conscience? Looking for guidance to remedy a sticky situation?
Seek help from the master of the kitchen! The Dish Diver has solutions to life's little messes. Send your problems to "Ask the Diver." - By mail to Durango Telegraph - Attn Diver -534 Main Ave., Durango, CO 81301; by email at telegraph@durangotelegraph.com, or by fax at 259-0448.