New group seeks to restore "traditional Colorado values" to La Plata County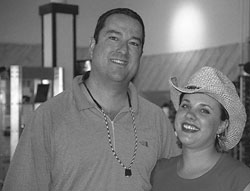 Chances are local pizza lovers, upon wandering out of Diorio's, have
wondered about the virtually empty
office next door. It houses a pile of posters that read "Elect Sheryl Ayers
Commissioner;" a photo of two women in bikinis below a large American flag; red, white and blue star-shaped candles; and a pink sign on the door that reads: "L.A.C.E. Ladies Active Conservative Electorate."
However, more information for the
curious is hard to come by. The LACE sign doesn't give a phone number or Web site, and the office seems to keep strange hours. A call to Ayers to see if she knew how to contact her supporters at LACE turned out to be a dead end. Ayers seemed pleased to have the support but said, "I've never heard of them."
Eventually the LACE trail led to Main Avenue's Galloping Goose gift shop and Cybil Rushing, whose husband, Mark, owns the store. Cybil Rushing said she founded the group this summer after a negative experience at a meeting of Southwest Republican Women. She proposed writing a letter to the Durango Herald – as a group – to commend Duke Schirard and his task force for "deciding to let the train run" despite the fires. But the members told her it was "too political," and Cybil went home in tears, she said.
That night, over dinner, the Rushings came up with LACE and its male counterpart,
ACE.
"It's about appreciating traditional Colorado life," Cybil said. "Everybody talks about tolerance, but it seems like a lot of the people who move here aren't very tolerant of traditional Colorado views."
Cybil grew up in Leadville, went to college at the University of Northern Colorado in Greeley and moved to Durango five years ago. She said she remembers when Colorado held an annual school holiday in honor of the first day of hunting season. However, because of pressure to be politically correct, the day was renamed to honor teachers.
"Somebody came in and didn't want to kill Bambi or something," Cybil said.
It is this sort of deviation from traditional Colorado values that made the Rushings want to give the "silent majority" a voice.
"We're not disagreeing with what people believe, we're just disagreeing with somebody coming in and wanting to change it," Mark said.
Members of LACE must be native Coloradoans who are ladies, or "women
with refined manners." They also must uphold the tenets of the group by being
"active," which involves doing instead of talking, and "conservative" by "standing up for
conservative American values."
Ultimately, the club values "god and country."
But the clubs are not composed of stereotypical conservatives, the Rushings said. Mark said many Americans hear the word "conservative" and think of Rep. Bob Barr, R-Ga., "pale, with his little Hitler mustache." But the Rushings are a young couple, as are some of their members. (The Rushings described the number of members as( "small but growing.")
"I joined because there aren't many organizations out there for people my age that let you take a conservative stand on certain issues and aren't offended by it," said LACE member Andie Pierce, a 21- year-old FLC student from Boulder. She said she doesn't mind people moving to Colorado, but it's a "pet peeve" when they "enforce their beliefs onto Colorado."
"They move from wherever they were because they didn't like it, then try to turn Colorado into whatever state they came from." For example, "very liberal Californians with their holistic beliefs try to make Colorado all holistic." She said it is hypocritical for Californians to oppose logging here when one considers the state of the environment there.
Mark, who moved to Durango from Texas almost 16 years ago, said that despite the "anti-Texan thing … every Texan who moved here wanted to be a Coloradan."
"But Californians come in and want to change it," he said. "It's offensive."
LACE and ACE do not officially endorse political candidates, but Cybil said they like Republicans Kay Alexander and Ayers, and dislike Sen.Jim Isgar, D-Hesperus, and
Rep. Scott McInnis, RColo. Mark Rushing said Republicans and Democrats would
agree that McInnis "hasn't represented this county in its time of need."
"It's easy to do happy talk when you've come from a bad chicken dinner at the Kiwanis club," Mark said. "It wasn't that he didn't deliver the bucks – he didn't try."
Mark is registered as "unaffiliated," which he said he felt fit with what he was trying to do with LACE and ACE. His wife is "old-time Colorado so she's Republican," he said.
Cybil agreed. "It was impossible to be a Democrat in college because it was all 'no
hunting'… anti-Colorado. Anti-everything I'd grown up with."
Other examples of transplants imposing their will upon traditional Colorado values include open-space initiatives, controversies around ranchers shooting dogs, reintroduction of grizzlies, "lost hikers," opponents of increased logging in national forests in the wake of this season's wildfires, consideration of increased development around Lake Durango, people who complain about smoke from the train or deer in their yards, and antismoking campaigns, they said.
"We're well-meaning," Cybil said. "We're not do-gooder meddlers."
"If there's something we're against, it's people tending to other people's business,"
Mark Rushing said.
The couple named Mark Pearson of the San Juan Citizens Alliance as an example of a do-gooder meddler. Pearson, who grew up in Denver and attended Colorado State University before moving to Durango, said he was honored and flattered by the reference.
"I think do-gooder meddlers are what make the world go round," he said.
The Rushings also credit transplants with introducing classism to Colorado. Mark Rushing said that in the last few years, some customers have been "coldbloodedly
rude" to his employees at the Galloping Goose.
"It used to be OK to be a mom-and-pop organization, and people actually like that," Mark Rushing said. "The people who have moved here don't have momand-
pop stores where they come from – they don't understand it; they don't get it."
But Cybil said so far LACE hasn't encountered any problems with transplanted
liberals because "we're very openminded."
Upcoming LACE and ACE events include plans for a "God and Country Parade" possibly on the Fourth of July.
"We just want to stand up for traditional American values and Colorado values,"
Cybil said.
"There really are Colorado values – there really was before California decided to visit," Mark Rushing said. "We just want to hang onto the Colorado that (Cybil) was born and raised in."
To contact LACE, write to:600 Main Ave., Suite 111, Durango, CO 81301.