This weekend finds us with a variety of festival choices in the area. I'll break them down here so you can choose the one that's right for you. I'll also provide a hippie
factor for each festival, which will rank, on a scale of 1 - 10, your odds of seeing or participating in any hippietype things at the festival in question.
Let me begin this dispatch with a quick disclaimer. You see, I'm a night-club kinda guy. I like my live music with dim lights, thick smoke and cold beer. No sunshine, fresh air and hummus sandwiches for me, thank you. Maybe I'm a product of my upbringing in the cold, dark and rainy northwest or maybe I'm too cheap to plunk down $100 (or more) to go someplace where I'm not allowed to bring anything other than bottled water. However, I do know that the festivals are immensely popular in these parts and,
thus, warrant discussion here.
We begin with the Wildflower Festival on Saturday at Durango Mountain Resort. The festival, named for an album Judy Collins released back in 1967, stars Collins and Arlo Guthrie. It also features fellow folkies Tom Rush
and Natalie McMaster.
Expect songs of solemn social protest, a funny smell in the air and tons of grey ponytails. Just don't expect Arlo to play his most famous tune, the Thanksgiving-Day epic "Alice's Restaurant."
Apparently he's grown weary of performing it. I've had the occasion to see Guthrie twice and both times he did tease the crowd by playing the main line of the song several times, though. D'OH!!! Guthrie does spin a mighty fine yarn, however, and puts on a show worth seeing. Also, I hear he's the son of someone famous.
The rest of the line-up should play nice, important songs that won't offend anyone. If my parents lived in the area, I'd buy them tickets, they would certainly love it.
Tickets are $35each or $99 for four, and the fun begins at noon in the Columbine Amphitheater.
The Wildflower festival gets a hippie rating of 9.5.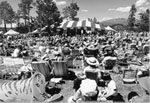 Sixty miles east of Durango on the same weekend, it's the Four Corners Folk Fest in Pagosa Springs. Our own Missy Votel broke this one down in last week's Telegraph, so I won't bore you with too many details.
It's a three-day event featuring a wide array of performers, and there's camping on site. If you only have time for, or
can only afford, one day then go Saturday. It's the longest day of music, and you don't want to miss Darol Anger and his "fiddles o' fire."
Nickel Creek also plays that day, and I've seen their videos on CMT. Ticket prices vary from $20 to $80.
The hippie rating for the Four Corners Folk Festival is 8.
Those of you in a traveling mind might want to head to Santa Fe for the weekend to check out the Thirsty Ear Festival. Taking place at several locations around Santa Fe, this festival runs Friday through Monday. The line up features Joan Baez (hippie alert!) and several jam bands, but I have picked out a few reasons for making the trip.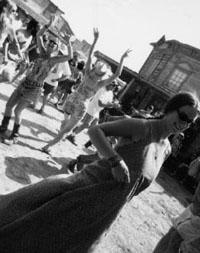 The first is Dan Hicks and His Hot Licks, who along with the Beatles, hold the dubious distinction of being the only band I listened to as a child and still listen to today. They take the stage at 9 p.m. Sunday at the J.W. Eaves Ranch. Hicks is cut from the same cloth as other jazzy folk-type singer-songwriters such as Tom Waits, Rickie Lee Jones and Chuck E. Wiess. He brings three-part harmonies (with backup singers the Lickettes), violin, mandolin and a weird sense of humor together for an incredibly fun
time.
Authentic folk singer Ramblin' Jack Elliot also will be at the J.W. Eaves Ranch on Saturday at 7 p.m. I say authentic because Ramblin' Jack is the real deal – no pretensions, no hip political stances. Just simple songs about the things that are important to him. And while the Ramblin' in his name is often quite appropriate (he does a fiveplus minute song about a cup of coffee), his songs keep you engaged and
entertained.
Lastly, if in Santa Fe this weekend, check out the Backsliders at 10:30 p.m. Saturday at the Saloon stage. Led by Chip Robinson, the Backsliders are a North Carolina quintet that play what I call bar rock. You know, straight-ahead, crunchy guitars and uncomplicated drumming wrapped up in an accessible, danceable package. Song subjects range from unrequited love with a prostitute to shootin' the sheriff when he comes a callin' on your porch.
Dang, what fun!
Go to thirstyearfestival.com for ticket information and directions or call (505) 473-5723.
The Thirsty Ear festival gets a hippie rating of 6.
Happy festivaling, kids! Remember to take lots of sunscreen and water, and don't eat the brown acid.
When the weekend is over, I'll be waiting at the end of the bar with a smoke and a cold one.
Questions, comments, suggestions or thinly veiled threats should be addressed to mpsheahan@ yahoo.com.
NEXT WEEK: Why is my T.V. always broken?